Here is my Sunflower Tablescape in full view. Make sure you link up to my Centerpiece Wedneseday party
HERE
going on right now and link back to The Style Sisters so we can all learn from each other fun ways to do a Centerpiece!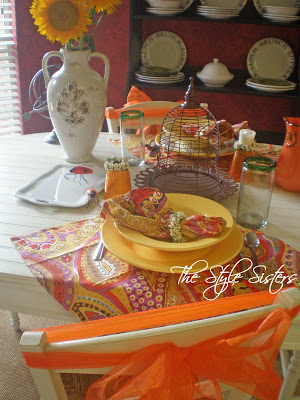 I just love bright yellow and orange together it just makes me smile.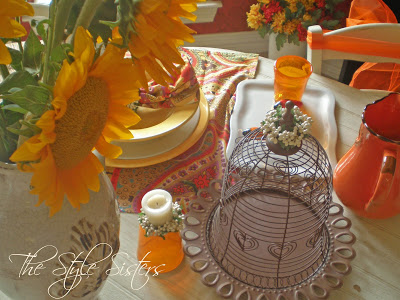 I found these very colorful napkins at Home Goods the other and day and knew I just had to use my bright yellow plates in this tablescape. I bought these large yellow plates at a Pottery Barn outlet in Las Vegas many years ago. I love the color and they are huge and heavy.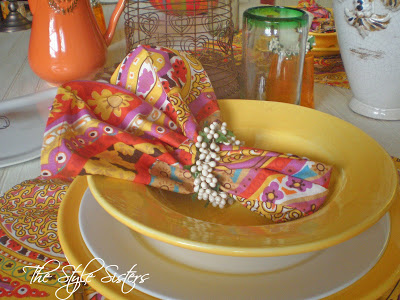 Here is a view showing the orange chair wraps that I found at the thrift store the other day…10 of them for a buck! They just make the whole tablescape feel more special with that added touch.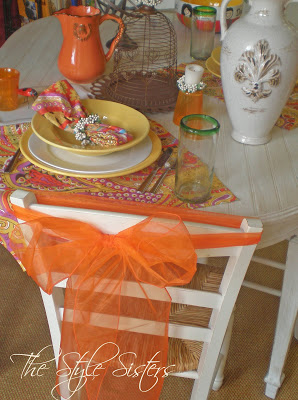 I found these crazy looking bugs at Hobby Lobby and decided they needed to be marching along on the table too..but my husband said they look like large colorful cockroaches! RUDE!!
(LOL actually they kind of do but don't tell him that I said that)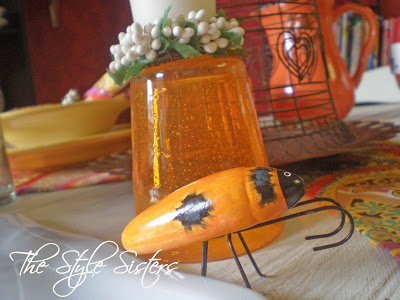 Here is fun way to use some of my napkin rings in an unexpected way. I turned these darling orange glasses upside down and placed a white napkin ring on top and added the votive candle to make them stand out. Pretty cute and easy.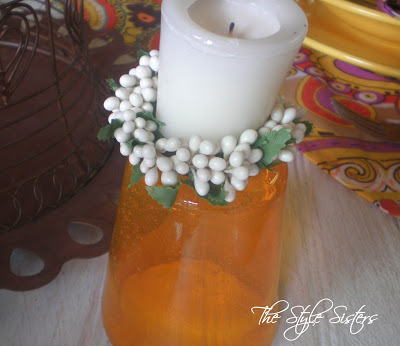 I just liked the way this photo turned out with my clock in the background. You see some of my cookbooks peeking through the handle of the pitcher.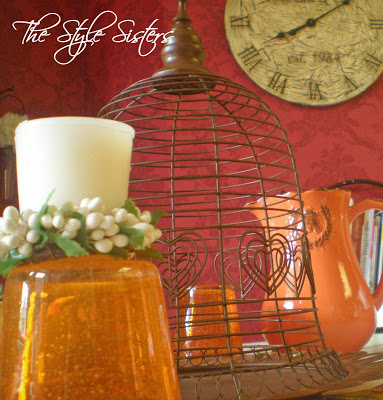 I thought this was fun way to set your silverware on the table….crisscrossed with a napkin ring around them…. placed inside a bowl with the napkin folded and placed between the bowl and the plate.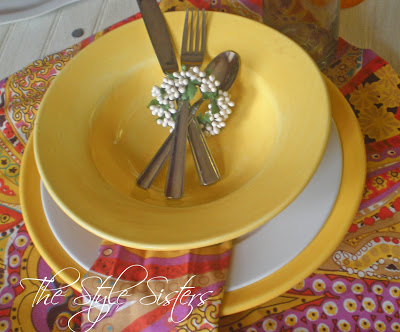 Then I took the napkin and squenched it up just at the bottom with a napkin ring and added the crisscrossed silverware for another pretty look.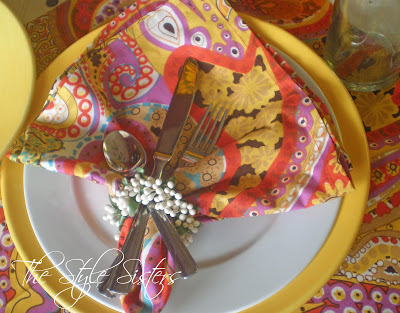 Napkin Rings are available here on my blog for only a dollar each.