Do you ever walk into model homes and think to yourself I would love to have at least one little area of my home that just looks…well…. Perfect! I am not talking about the whole house…that is just impossible with people living in it everyday…. but just a little area a…"vignette" of perfection……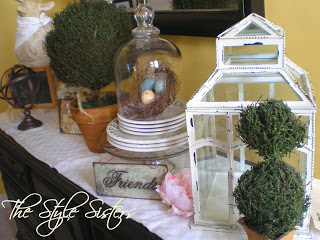 A small area of your home that you can look at each day it just makes you smile because it is perfect looking to you. Sideboards or credenza's or whatever you want to call them (the piece of furniture that is sometimes used in the dining room) is one of the hardest for me to decorate around the holidays. I only do the big holidays…Christmas, Thanksgiving, Easter and Halloween. This is what I came up with for Easter-I just played around with things from around the house (as usual) and came up with this little piece of "perfection". It makes me smile to just look at it. The black sideboard is actually a dresser for a master bedroom and it was UGLY when I found it at a thrift store for $25.00!! All I did was bring it home and paint it black.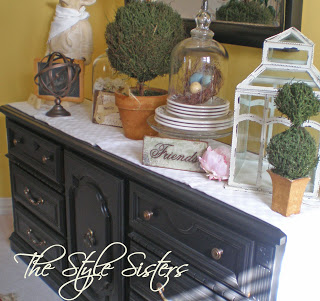 I love using different heights to create some interest. Up and down and up and down your eye goes looking at interesting fun items. I used glass cloches that I bought a while ago from Michael's craft store, I moved a large topiary from another part of the house to this sideboard to add a lot of height. I recently received these darling little handmade signs from Amy Kinser that she sent to me as the winner of her pay it forward giveaway in and around some of my fun items.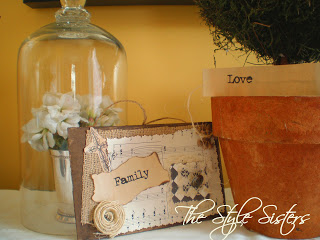 I stacked a bunch of my plates on a simple glass cake plate and topped it with a birds nest filled with eggs and covered it with another glass cloche. Plus I added another small topiary and a funky brown globe garden thingy (I don't know what it is called) and my french Pig seen at the far left.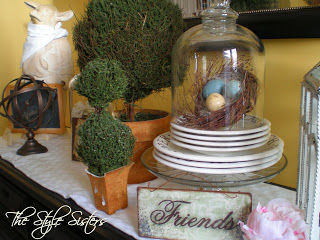 Here is a closeup of the birds nest under glass and my white terrarium
that I love love love!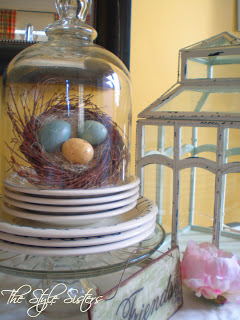 It is starting to look like Easter to me. 🙂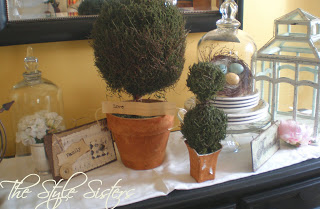 I am participating in A stroll thru Life Cloche PartyTablescape Thursday
Strut your stuff Thursday