Only two more days until I draw the name of the lucky winner for the set of 12 berry wreath napkin rings!!
Make sure you leave a comment HERE so your name can be entered in for the drawing.
I came up with a few more ideas of how to use these napkin rings!!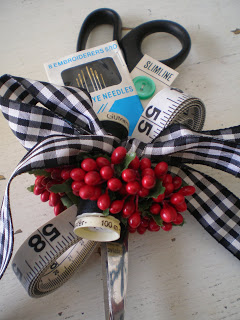 How about a gift for the seamstress in the family?
Take a pair of scissors, a package of needles, buttons and a measuring tape and stack it all on top of the scissors. Rubber band them in place..add a bow and the crowing touch…a darling red berry wreath. Great for a stocking stuffer and a little gift for your neighbor or friend or put it in a basket with a pattern and some fabric!
Or how about for the cook!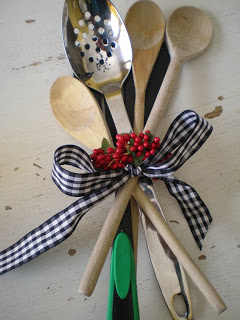 You could pick up most of the utensils at the dollar store!! Wooden spoons, spatulas, slotted spoon. Add a bow and of course the red berried wreath! Cute gift for the kids teachers at school!
Great gift to have on hand for a last minute gift!
Remember if you don't win the giveaway on Wednesday…you can purchase these napkin rings through my
Etsy shop (click Here)
…a set of 4 for $6.00 that is only $1.50 each!!
I will posting more ideas tomorrow as to what you can with the napkin Rings!!