We Celebrated Father's Day early this year and this is what we came up with for my hubby's special dinner.
My daughter Emily and I used this "manly" bit of red and tan striped fabric from Ikea and made a simple tablecloth for our table.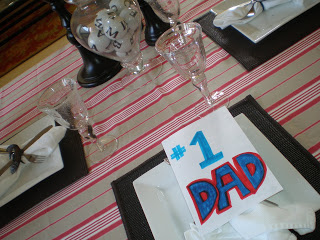 Then we set the table using our "manly" dark brown almost black place mats with white square plates on them. Then we got out the clear bubble glass goblets and placed them on the table as well. I had the glass apothecary jar filled with these fun porcelain white balls that have black letters on them sitting on my sideboard and we placed that in the center of the table with some of these fun black wooden decorator items that I bought at Hobby Lobby $2.50 each!!
Oh yeah I scored big on those little puppies. I recently saw them in another home dec store for $30.00 a piece.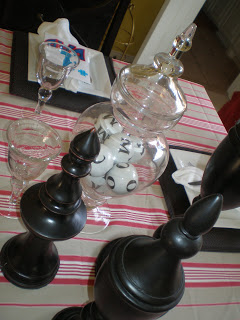 Emily saw these fun fish napkin ring holders sitting a drawer and decided that there were perfect for our "manly" tablescape. She pulled the white napkin through and then put the silverware in between the napkin and the napkin ring. The table came out looking perfect…not fru fru at all but nice and "Manly" for our special man. he he he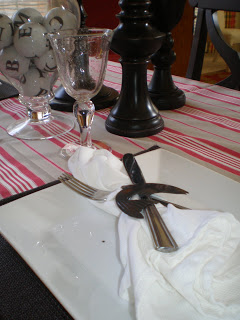 Here he is reading the most precious card that Emily made for him. Very simple but the words were so heartfelt that I think if you look very close there is a tear in his eye.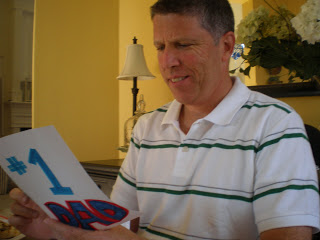 This is the Father's day meal. Grilled Tuna steaks with fresh Mango salsa, Grilled asparagus, broccoli salad (made with turkey bacon by the way and it was good), and a little bit of chicken pasta salad. It was all scrumptious.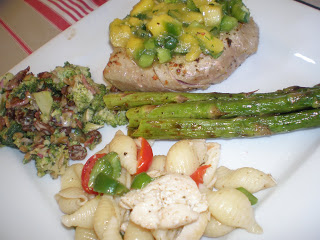 Then for dessert….My hubby loves chocolate and Ice cream so we made him a Chocolate Lava Cake and topped it with creamy vanilla ice cream and a few fresh raspberries.
He was in pure heaven!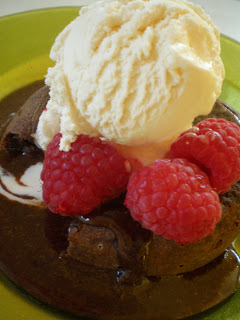 What are gals doing for your man for Father's Day this year?