Before I show you all the pictures of my daughters graduation party I wanted to share with you some of the delicious meals we had out in the backyard while many family members visited us here for Emily's graduation. We had 13 guests come for the graduation and we had a ball!! It was like a gigantic sleepover…. everyone slept at our house for the whole week. Sleeping bags, blow up mattresses, sofas all had someone sleeping on them. We cooked most meals at the house as well.
This was our salad night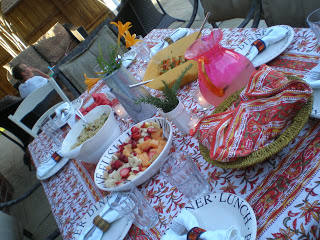 We made a delicious bow-tie pasta salad with grapes and chicken that my daughter Madeline had found a few years ago on the Cooking light website.
A beautiful fruit salad with cantelope, strawberries, raspberries bananas and apples.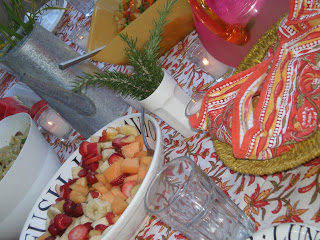 Madeline cut some flowers from my garden and stuck them into a watering can I had outside my back door and voila!! Instant centerpiece.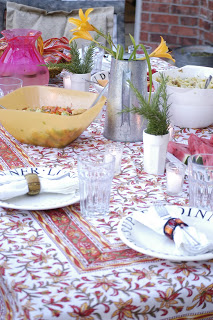 We also made the amazing panzenalla salad from Ina Garten's parties cookbook.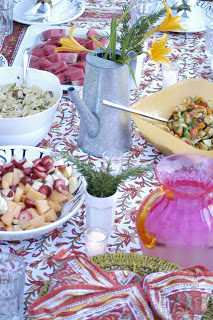 We cut up some watermelon and served yummy bread. Notice the small white cups..Madeline cut some rosemary from my garden and placed it in the cups and it just added to the table and the smell is incredible! She got the idea from Matthew Meads book Entertaining Simple. He teaches how to make good use of things that you may already have and using them for different things.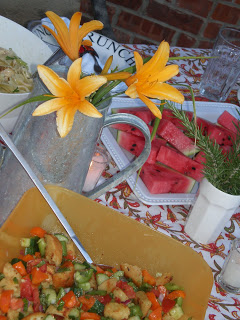 We even tried to make it festive for the all the little boys by using my colorful plastic dishes and setting them on the footstool for their dining pleasures.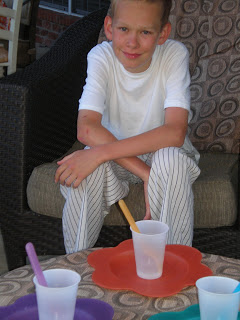 The mosquitoes started to come out and my mom had heard that if you use dryer sheets and rub them on your skin it will protect you from them.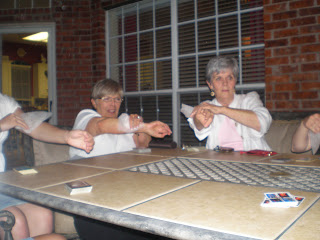 We decided to wear them on our heads too! Ha ha…it did work! Then we played a great card game called Nertz!! We just laughed and laughed and had such a great time.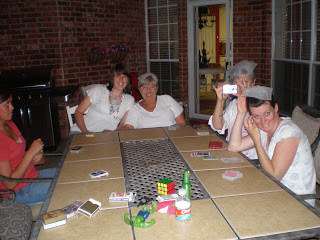 Simple and yet beautiful fun ideas for dining in your backyard.