My sister Tiffany is amazing when it comes to re-doing thrift store furniture!! Look at this old desk and computer chair that she re-did.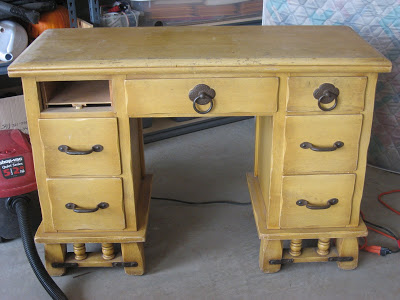 From Tiff: For anyone who has one of these, you can too take off the back rest, you just have to look how it is screwed together and take it apart piece by piece. Seriously, it did not take me very long at all to dessemble it! The seat part was SIMPLE PIMPLE!! I just took my fabric and literally wrapped it around the seat and stapled it to the bottom with an electric staple gun!! No one sees the bottom so it is not perfect, but no one knows that 😉 I think I am going to find another chair like this one and recover it for my son for his room!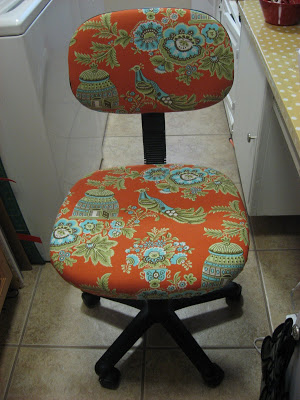 Here is the chunky old desk that she found at a thrift store but it was missing one drawer ….for $30.00! It had great lines so she painted it white. Then she found a basket to put in the drawer space. See below…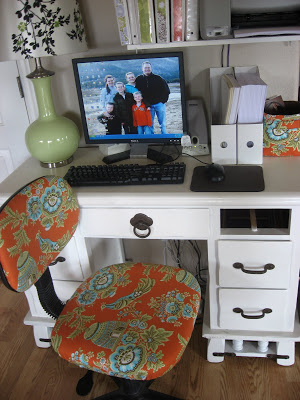 From Tiff: First off we needed a small desk to fit on a wall that was only 43 inches wide. Every desk I looked at was way to expensive and WAAAAYY to big, so I decided to check out the fav thrift store and stumbled upon this beauty that was exactly 43 inches across!! I got the guy to come down to 30 bucks and I grabbed it!!! So off I went back home to start the re-do process….. I lightly sanded the desk and painted it a french white and added a basket to the drawer opening that had a drawer that was missing. We superimposed another basket on the right side to show you what it will look like when I find a matching basket!! I found the one at a yard sale for a quarter! (please ignore the lovely wires behind the desk, I have to find a sneaky way to disguise these).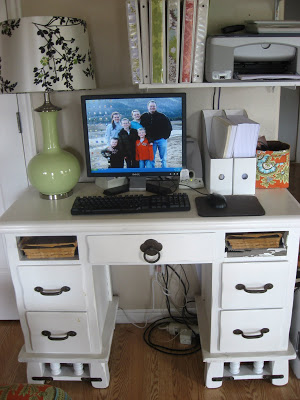 Please go to her blog The Childrens Nest to get all the details on the re-do, the lamp, and the notebooks.
Linking up to
Furniture Feature Friday