Bringing back an idea: A few years ago I shared how to make this three tiered stacked cake plate with newspaper cut into scallops on the edges.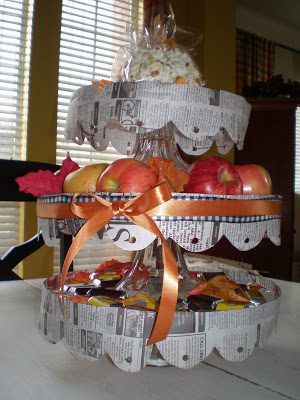 It is a fun Centerpiece idea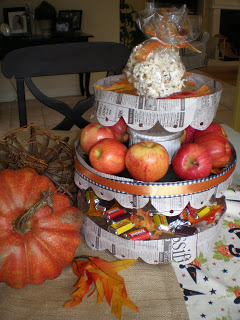 I originally saw this idea on Pottery Barn's website a few years ago and loved it!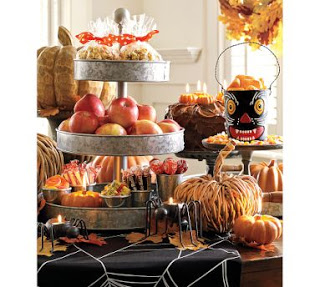 I decided to try and recreate it using things I already owned. As I was looking around my kitchen I found I had 3 cheapie glass cake plates and knew I could stack on them on each other.
Then I found this idea in an old 2006 Matthew Mead Christmas magazine and thought to myself…."Self…you can do this with newspaper!!"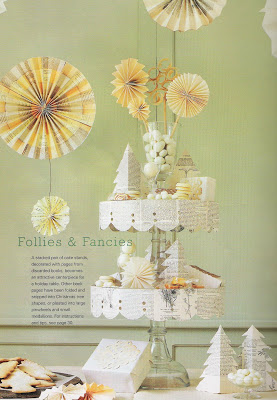 I used
newspaper
but you could use any kind of paper…construction paper, scrapbook paper, Tissue paper, even butcher paper!! Decide what kind of a trim you want whether is be a scalloped edge or maybe even a triangle edge…whatever your heart desires.
After I cut the newspaper into scallops and
punched holes in each scallop with a hole puncher,
I attached it the edge of the cake plate with Hot glue!! It comes off really easy after you done..it just peels off.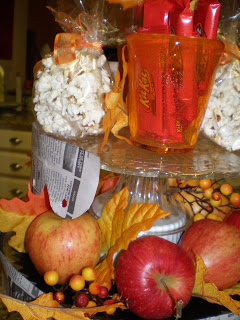 Then I started adding fun things on each layer…like
bags of popcorn in cello bags
tied with orange ribbon, little orange cups filled
with candy treats,
apples and fall leaves etc..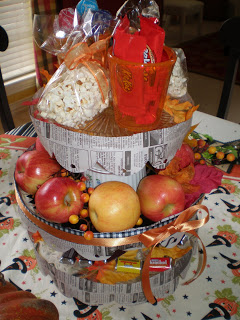 Here it is all done with with all kinds of yummy Halloween treats to use as a center piece for a table or side board.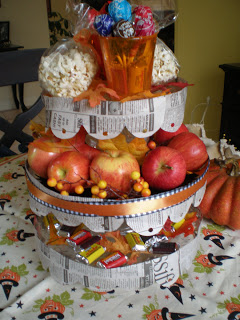 Using what you have and making it new again!!
You could use this idea for any Holiday or birthday!
Since this original post I did end up buying a 3 tier, 2 tier and a 1 tier galvanized tin serve ware from Pick your plum and have used them many times…once for this hot chocolate bar, My easy fall centerpiece, Navy and Peach Wedding reception and to serve my caramel apples on just to name a few
Linking to