I came across this great fashion blog with lots and lots of great outfits! I have pinned many of them and here are a couple of the cute springy looks I want to try to put together.
Love the red white and blue outfit and the big leather bag and neutral shoes.
Super cute pink jacket and striped scarf with jeans…so classic and chic!
I really like this combo…blue and green with a pop of pink purse…so fun…so me!!
Love this yellow and white combo too!!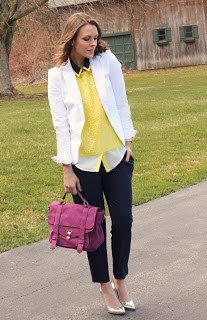 Check out all her amazing outfits on her blog