Here are the links and recipes for the Frozen Birthday Party Food Ideas that my daughter had for her daughters 5th birthday.
You can see pictures from it here on my post Disney Frozen Birthday Party she served all kinds of fun "Frozen" themed foods and treats.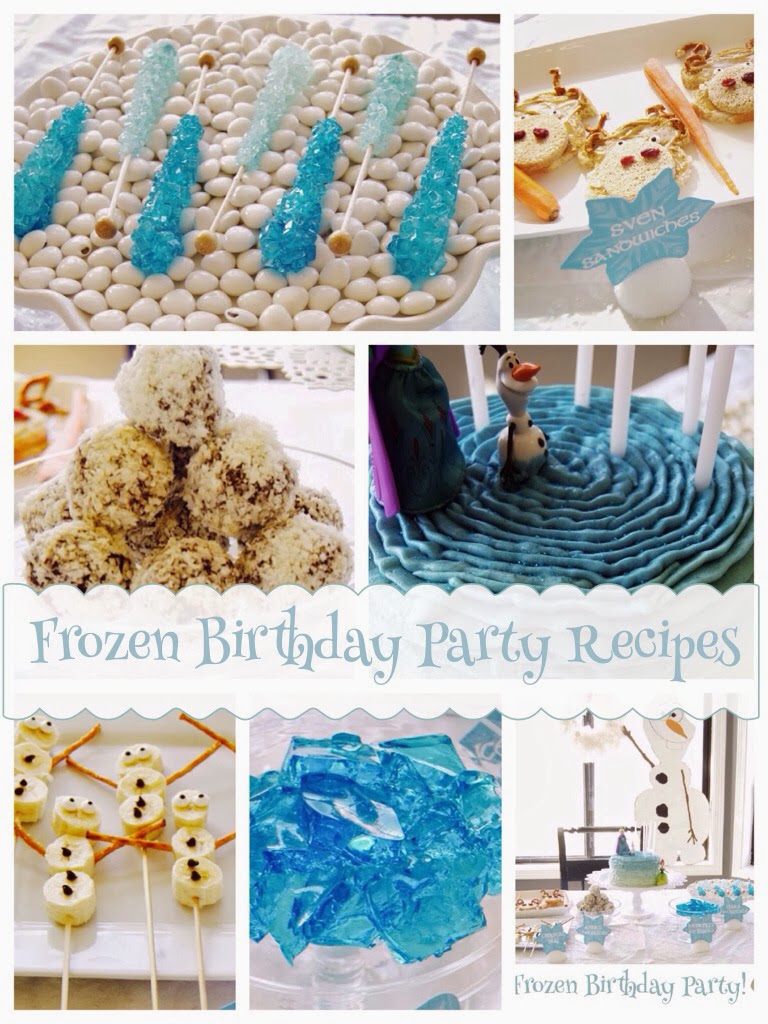 Elsa's Rock Candy
Rock candy is perfect to use as Elsa's rock crystals. Placing them on white M&M's or yogurt covered raisins make them really pop!
The kids went nuts for them.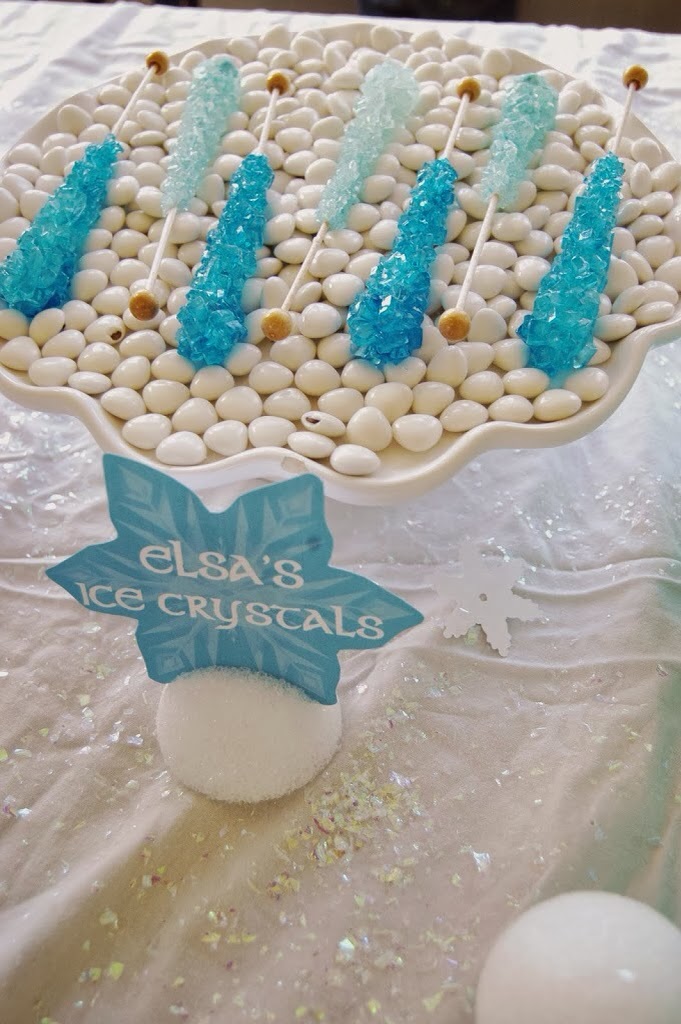 Sven Sandwiches
Cut a bear shape head out of bread and cover with peanut butter. Add a cookie cutter round shape piece of bread over the bread for Sven's nose.
Add raisins for nostrils and curly pretzels for antlers.
For the eyes add googly eye candies placed right above the round nose area.
Are these cute or what! Add a few carrots for Sven and his friends to munch on 🙂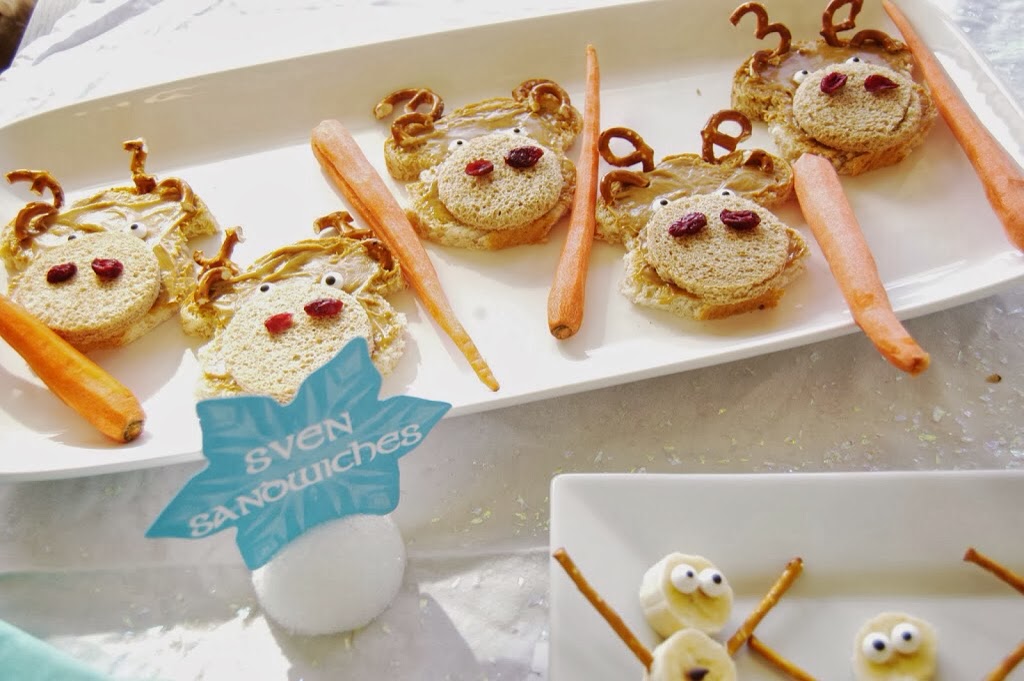 Tropical Olaf banana skewers
Using lollipop sticks help to create this tropical Olaf.
Thread 3 cut slices of banana on them to create Olaf's body.
Use little dabs of peanut butter to add mini chocolate chips down the middle.
Googly candy eyes and straight pretzel sticks finish off cute Olaf!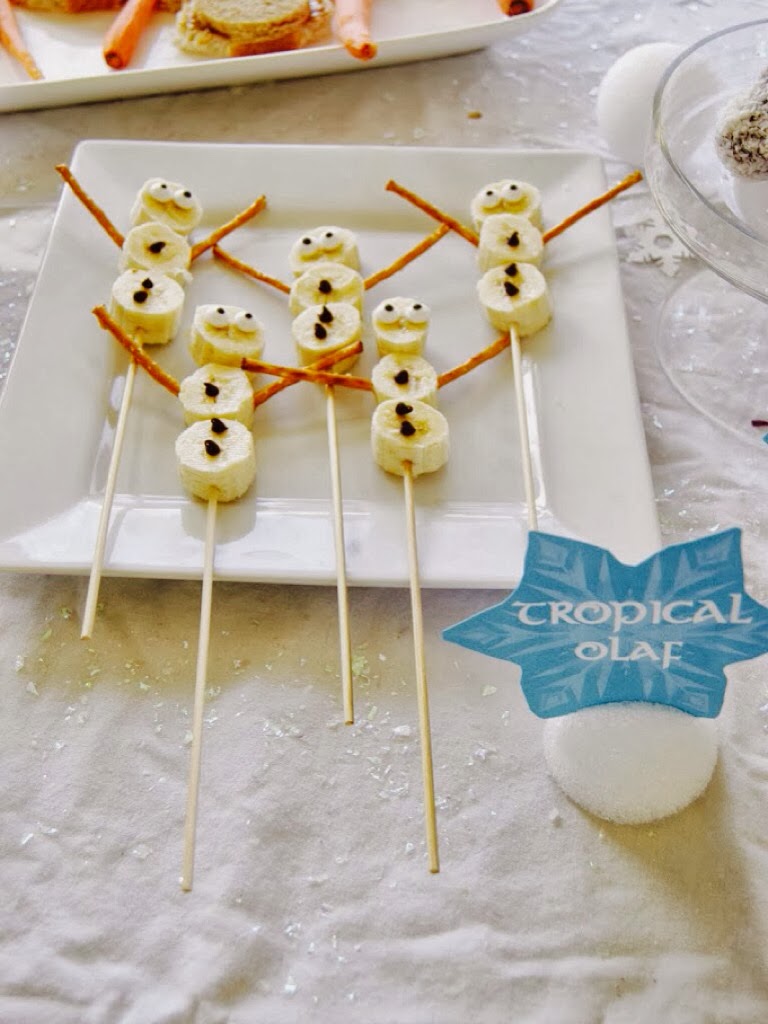 Kristoff's Ice blocks
Jello jigglers to the rescue for these fun Ice blocks!
Using berry blue flavored jell-o. Follow directions on box on how to make the jigglers.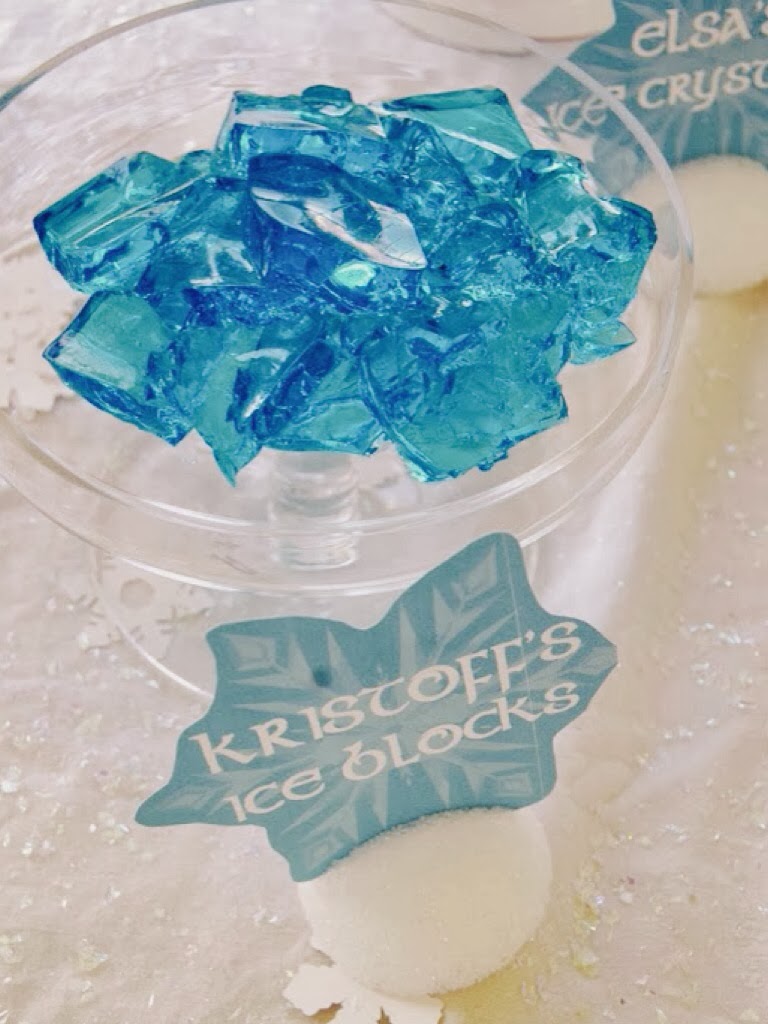 Anna's Chocolate Bon Bons
These are healthy chocolates and really yummy! The recipe comes from Camille Styles
Here are the ingredients
12-oz. package of chocolate chips, or chopped up semi-sweet baking chocolate
1/2 cup coconut milk (full fat)
tiny splash of vanilla
1/2 cup or so, raw chopped pistachios
1/2 cup or so, unsweetened shredded coconut (optional)
a few pinches of sea salt
Instructions:
Melt chocolate in a large glass bowl over a small pot of simmering water. Stirring until smooth.
Remove from heat and stir in coconut milk and vanilla
Refridgerate for at least 4 hours.
Toast pistachios with a little bit of sea salt, spread a thin layer on a plate.
Place coconut and a few pinches of salt on a separate plate.
Scoop 1-inch balls of chocolate, roll them into the toppings. Using your hands to get it all to stick together. Store, covered, in the fridge.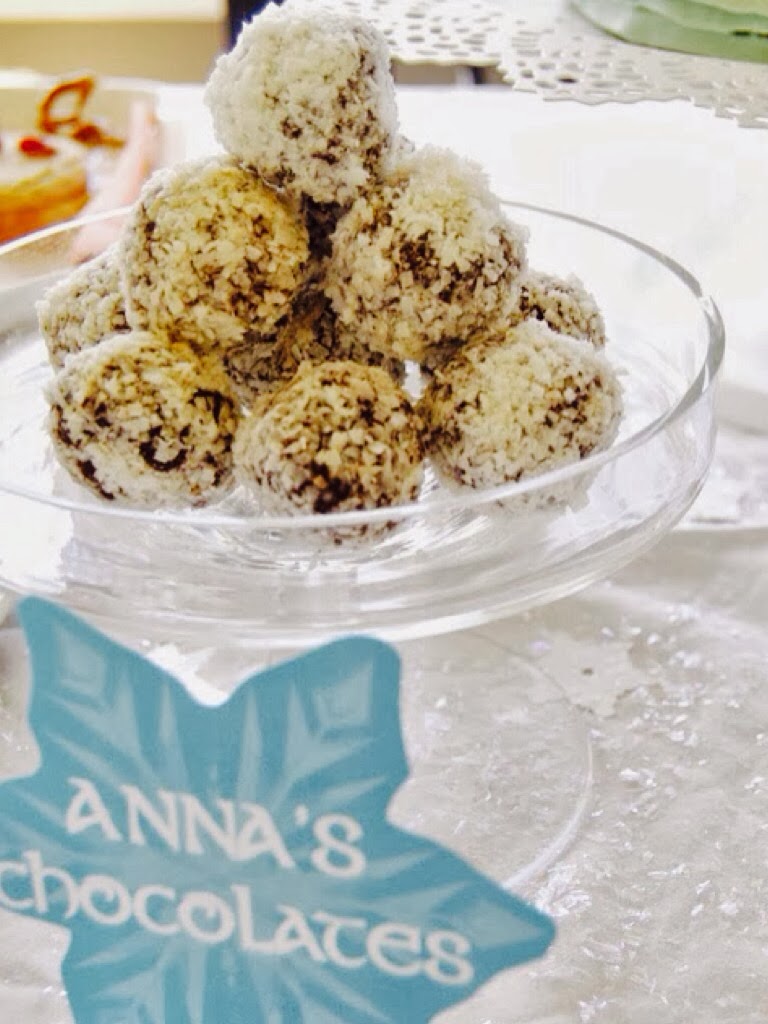 Healthy Frozen Birthday Party cake
My daughter loves to put healthy things in her baked goods so she used this recipe from the Sneaky Chef cookbook.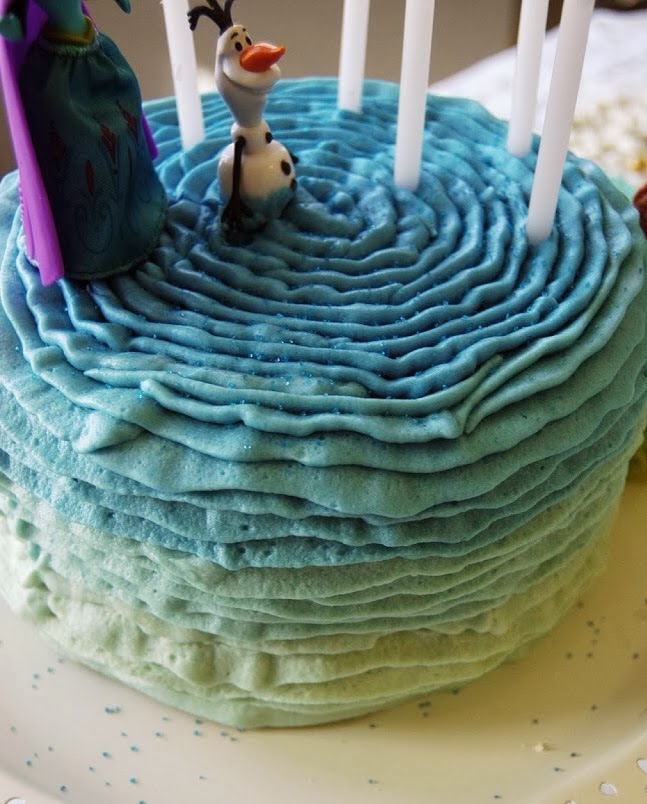 Sneaky Chef Choc-full Cupcake recipe
4 tablespoons butter
1/3 cup (2 ounces) semisweet chocolate chips
1 large egg
2 teaspoons pure vanilla extract
3/4 cup Purple Puree (See Recipe below)
1/2 cup sugar
1 cup all-purpose flour
2 tablespoons unsweetened cocoa powder
2 teaspoons baking powder
1/2 teaspoon salt
Powdered sugar for dusting
Preheat oven to 350 degrees and line a muffin tin with paper liners.
Melt the butter and chocolate chips together in a double boiler or a metal bowl over simmering water (or in the microwave, checking every 15 seconds). Remove from heat and allow mixture to cool a bit. Meanwhile, in another bowl, stir together the egg, vanilla, Purple Puree, and sugar. Combine this purple egg mixture with the cooled chocolate mixture.
In a mixing bowl, stir together the flour, cocoa powder, baking powder and salt. Add this to the chocolate mixture and blend thoroughly. Fill muffin cups almost to the top.
Bake 23 to 25 minutes, until a toothpick inserted in the center comes out clean. Turn the cupcakes out of the tins to cool. Dust tops with powdered sugar or frost with icing.
Puree Recipe
** Purple Puree Recipe ** I just used a mixture of applesauce/baby food prunes/some homemade baby food concoction. But here is the recipe below
Makes about 1 cup of puree
– 3 cups raw baby spinach leaves*
– 1 1/2 cups fresh or frozen blueberries (no syrup or sugar added)
– 1/2 teaspoon lemon juice
– 1-2 tablespoons water
*note: I prefer raw baby spinach to frozen spinach for this recipe (more mild flavor); if you must use frozen spinach, only use 1 cup of it.
Thoroughly wash the spinach, even if the package says "prewashed." If using frozen blueberries, quickly rinse them under cold water to thaw a little, and then drain.
Fill the bowl of your food processor with the spinach, blueberries, lemon juice, and 1 tablespoon of water; puree on high until as smooth as possible. Stop occasionally to push the contents to the bottom. If necessary, use another tablespoon of water to smooth-out the puree.
This recipe makes about 1 cup of puree; double it if you want to store another cup. It will keep in the refrigerator up to 3 days, or you can freeze 1⁄4-cup portions in sealed plastic bags or small plastic containers.
How to make the frosting and create ruffles
How to frost the cake from
The Perfect Crusting Buttercream by I Am Baker
Ingredients
Crusting Buttercream
1 bag powder sugar (two pounds or about eight cups)
1 cup shortening (I used original Crisco)
2 tsp vanilla extract (use clear if want white frosting)
1/2 cup – 3/4 cup milk
Instructions
Cream shortening and vanilla in mixer for 2-4 minutes. Add in powder sugar, one cup at a time. If you find your mixer struggling, slowing add in milk. Use more milk for a creamy consistency, use less milk for a stiff consistency.
Alternate Method:
Use 1/2 cup butter and 1/2 cup shortening. Place room temp. butter and shortening in mixer. Put entire bag of powder sugar on top, then add vanilla and 1/2 cup milk. Turn mixer on low and mix until all ingredients are incorporated. Turn mixer up to med-high and mix for 2-4 minutes. Can add more milk to reach desired consistency.
More Frozen birthday party links
Here is a link for the food labels as well as the game information :)