My adorable niece and her friend saw this picture I put on my Instagram from Womans Day Magazine asking if any of the woman in my family would be willing to make it for me hahah and she and her friend decided to whip one out…actually two… each one of them made this pie!!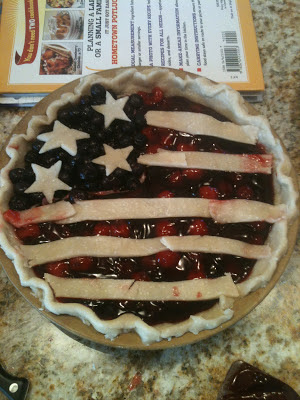 My niec..Elli….is on the right….I just love that they decided to do this and enjoy the art of cooking!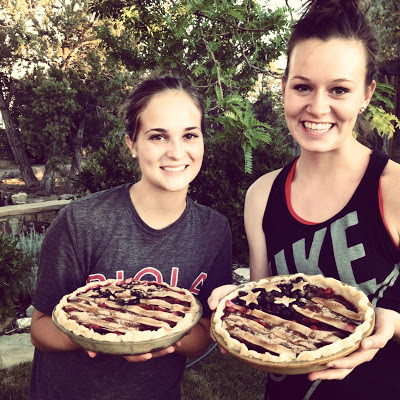 Both of these girls graduated from high school and will soon be going off to college. Are they cute or what!!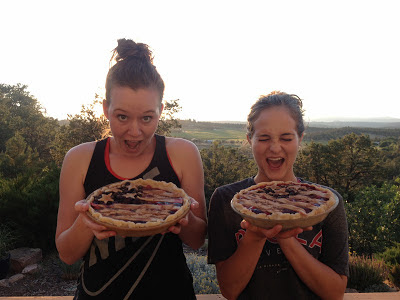 Way to go girls!! I am so proud of you! I am hoping Elli makes one for me when we get together for the 4th!! hint hint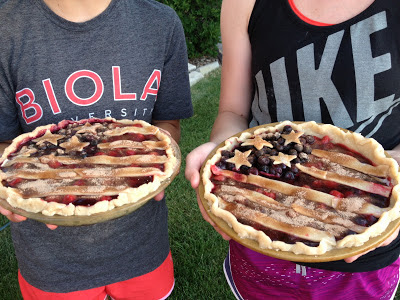 Stars and Stripes Pie
1 box(es) (15 oz) refrigerated ready-to-use pie crusts
3 can(s) (21 oz each) cherry pie filling
1 can(s) (21 oz) blueberry pie filling
1 large egg, slightly beaten in a cup
3 tablespoon(s) sanding or coarse (crystal) sugar
You also need: 1 1/2- to 2-in. star-shaped cookie cutter
Directions
On lightly floured surface with lightly floured rolling pin, roll 1 pastry round into a 12-in. circle. Fit into a 9-in. pie plate, letting edges overhang. Drain 1 can cherry pie filling, combine in a bowl with remaining 2 cans cherry pie filling.
Bend a clean 6-in. square of cardboard in middle forming a wedge. Place in upper left corner of pie (like hands of a clock pointing to 9 and 12). Fill with blueberry pie filling. Spoon cherry pie filling into rest of pie. Lift out cardboard.
Roll other pastry round into a 10-in. circle. With a pastry wheel or sharp knife, cut round in five 1/2-in.-wide strips. With cookie cutter, cut 5 or 6 stars from rest of pastry. Brush strips and stars with beaten egg;sprinkle with sanding sugar.
Heat oven to 425°F. Starting in middle of pie, carefully place three longstrips, evenly spaced, across filling toward bottom edge. Cut remaining 2 strips into 4-in.-long pieces. Lay over cherry filling on upper right corner.Press ends of strips into edge of crust. Roll overhang of bottom crust up overends of strips to form an even rim. Flute or crimp rim. Brush rim with beaten egg; sprinkle with sugar. Place stars on upper left corner of pie.
Bake 30 minutes. Reduce heat to 350°F; bake 25 to 30 minutes longeruntil pastry is golden brown and filling bubbles. Place on wire rack and cool completely.