Inspired by "Our Best Bites" Zucchini Ribbon Pasta with zucchini ribbons and cream sauce recipe I decided to try it out with just a few adjustments and it was soooo yummy!!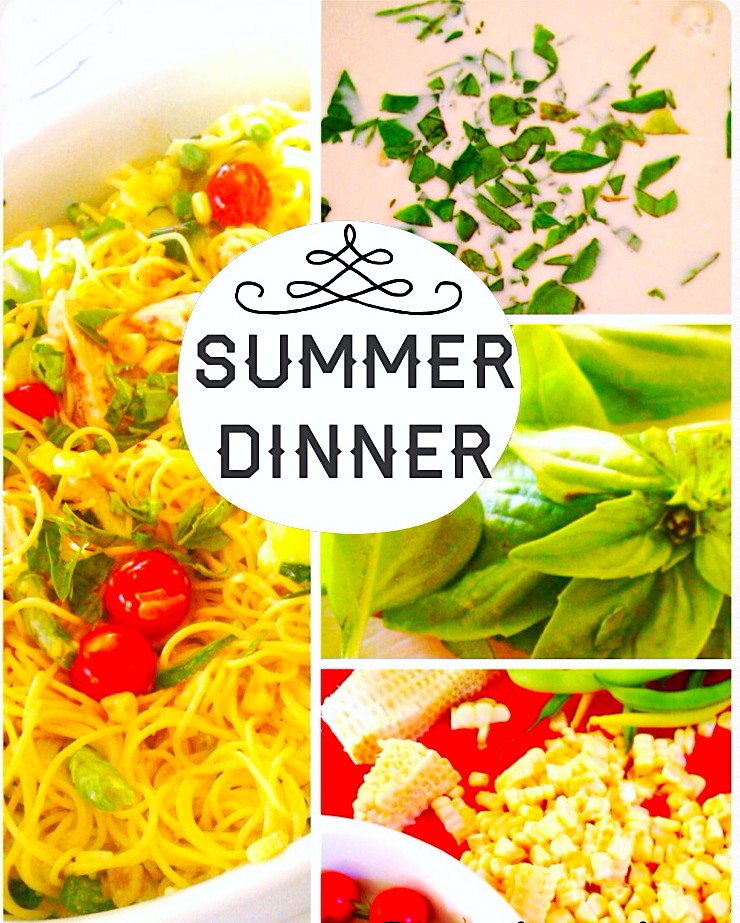 Begin to make pasta with zucchini ribbons and cream sauce
The zucchini is cut into ribbons using a vegetable peeler.
I laid the zucchini flat on the cutting board and took many swipes with peeler until I had enough for the dish.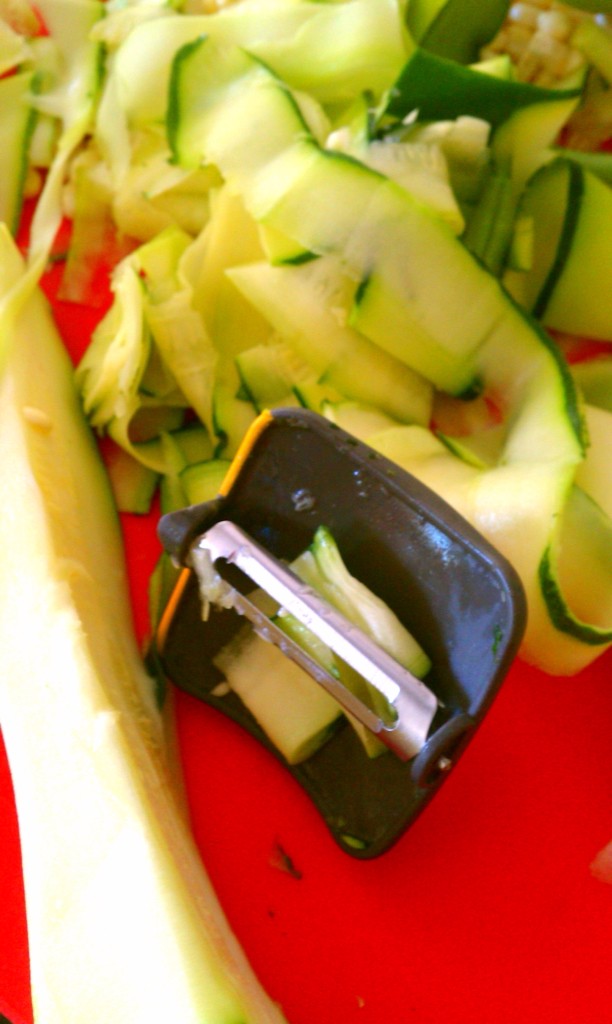 Cutting fresh corn
I needed to use up some corn on the cob I had in the fridge.
To get the kernels off the cob, I ran my knife down the edges of the cob and cut it off.
In my garden I had some fresh green beans and mini tomatoes so I decided to use them in this recipe too.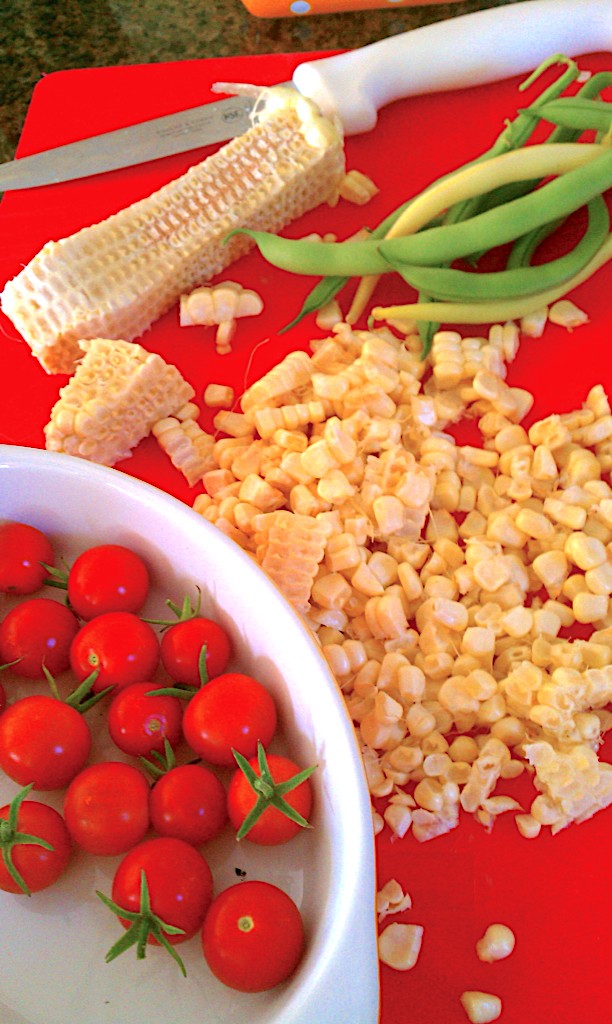 Sauteing fresh vegetables
Next I sautéed the corn and green beans in a little olive oil sprinkled with salt and pepper.
You don't have to cook these vegetables very long at all.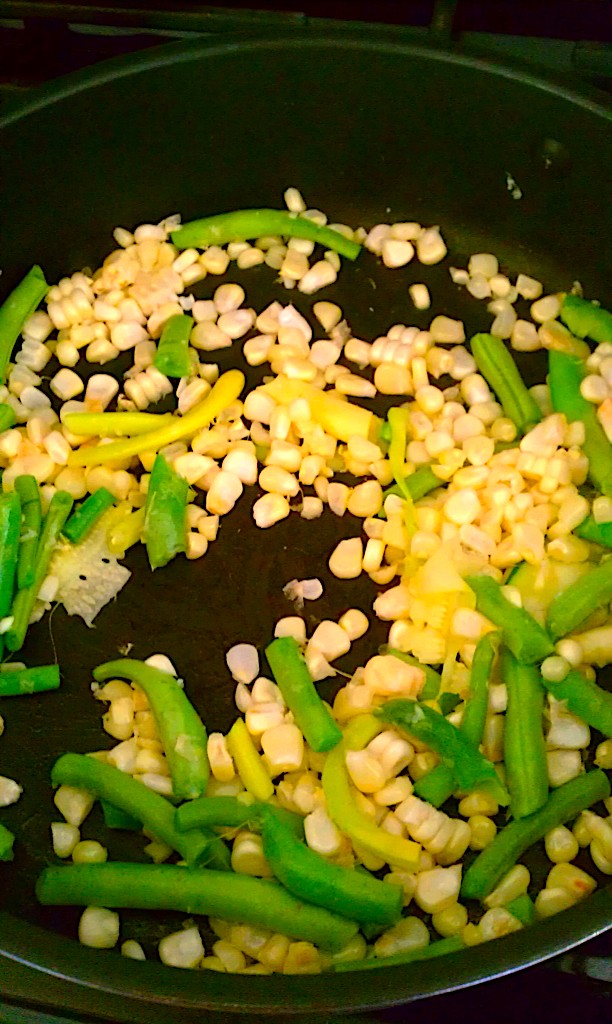 During the last 3 min. I added my mini tomatoes from the garden to the pan.
Cook them just until they pop.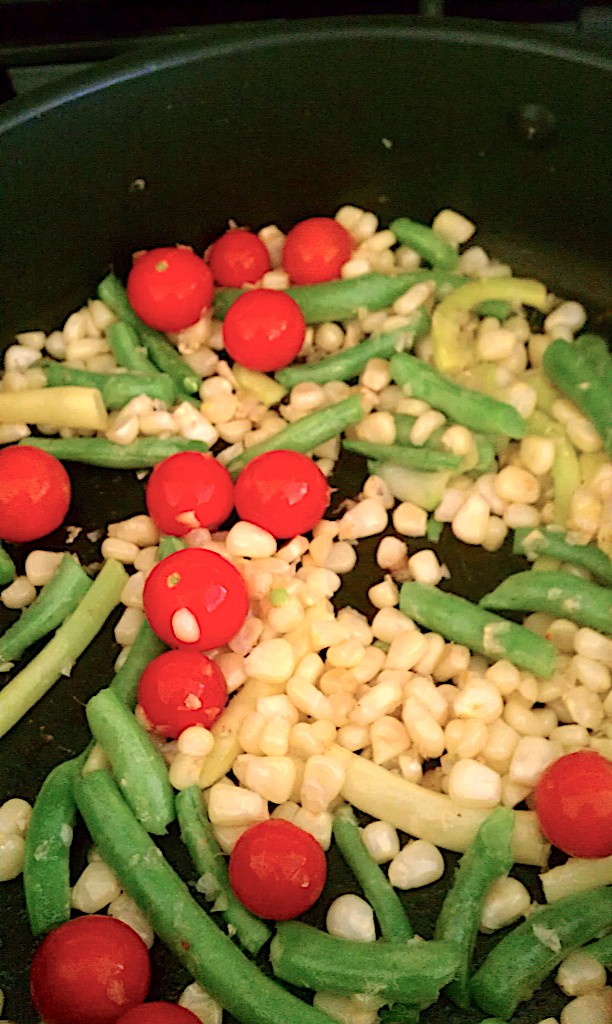 Make the cream sauce
The sauce is made with cream cheese, chick broth and I added a little cream too!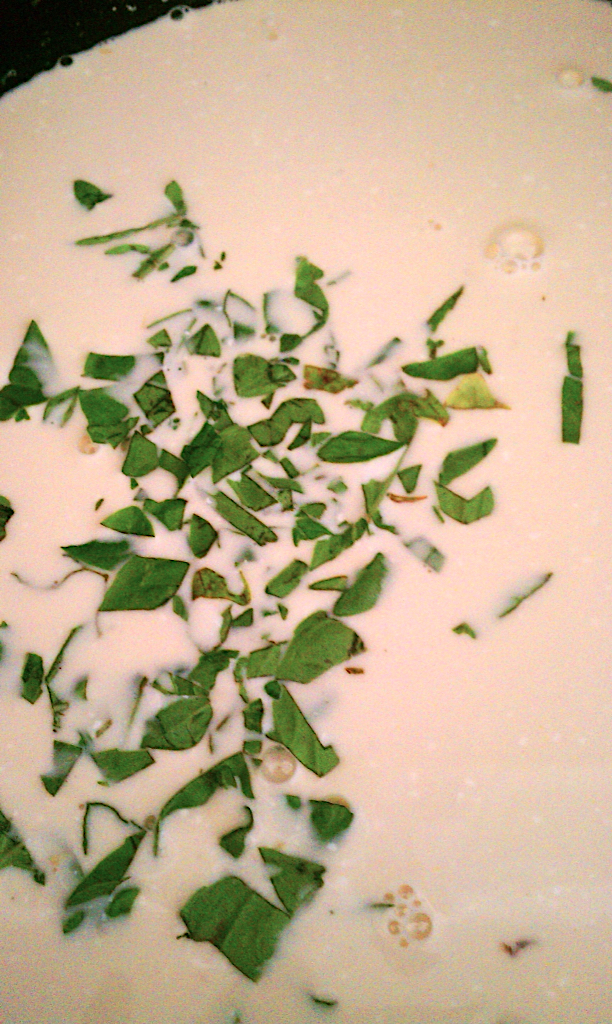 Fresh basil from the garden is chopped into small pieces and added to the creamy sauce.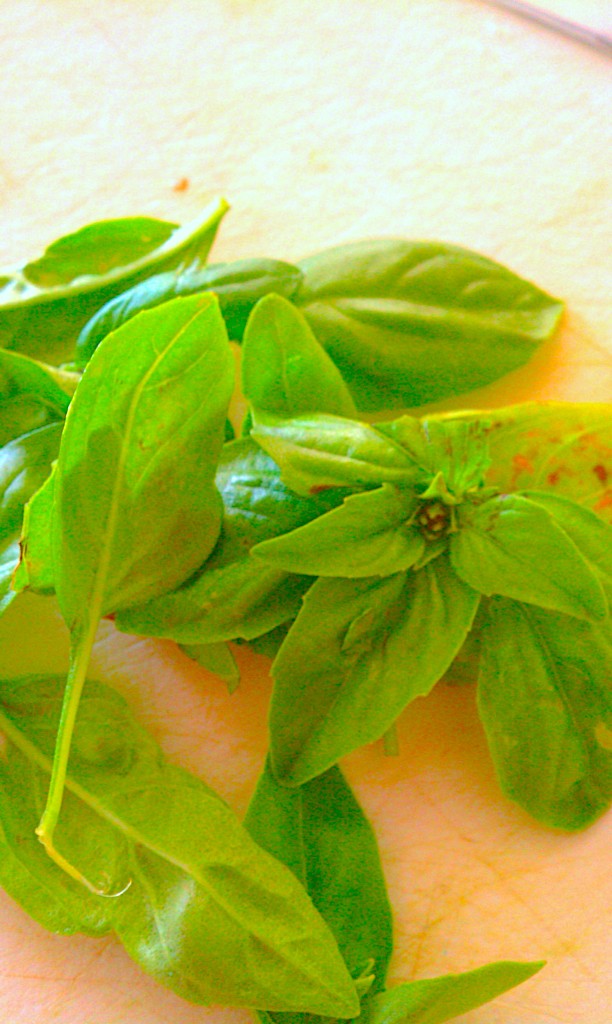 Angel Hair Pasta
I used angel hair pasta because it cooks really fast and we were hungry! 🙂
To make this dish more filling I also added in some left over grilled chicken.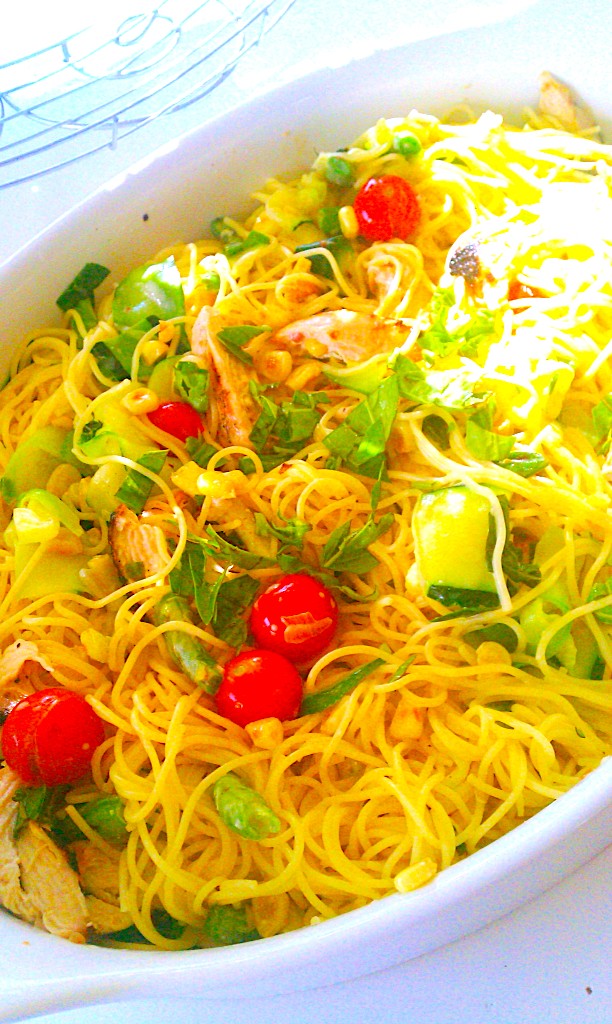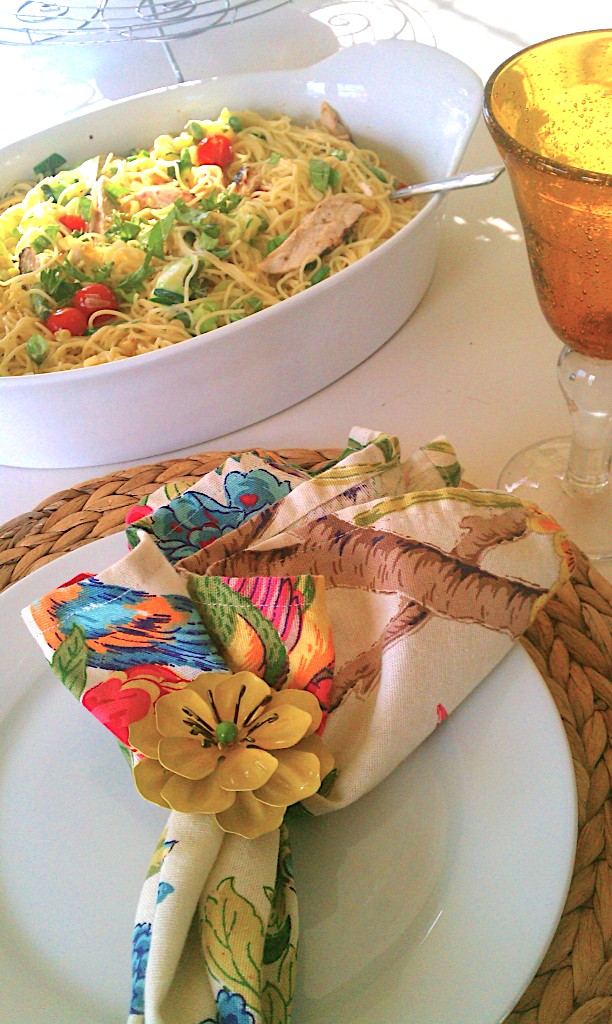 The recipe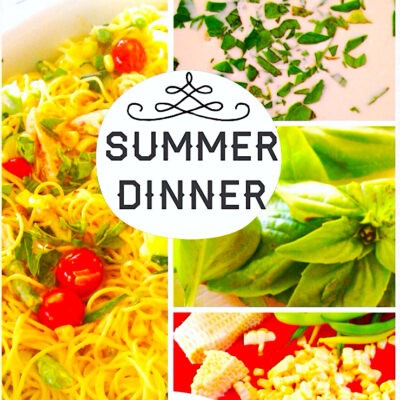 Zucchini Ribbon Pasta with Creamy Lemon-Basil Sauce
Angle hair pasta with zucchini ribbons, green onions, cherry tomatoes all covered with a creamy lemon basil sauce.
Equipment
frying pan

cutting board

knife

stove
Ingredients
Ingredients
½

lb

or 8 oz fettuccine (I used angel hair)

1

medium zucchini

2

tsp

olive oil

divided

10

ounces

grape tomatoes

about 2 cups

Handful of fresh green beans

kosher salt

black pepper

3-4

cloves

finely minced garlic

I used shallots

1

cup

low sodium chicken broth

3

ounces

fat-free cream cheese

I used regular

1/4

cup

cream

1

cup

very loosely packed basil

chopped

1

tablespoon

fresh squeezed lemon juice

more if desired
Instructions
Instructions
Fill a big pot with water for pasta. Cook pasta according to package instructions.

Using the vegetable peeler, slice off zucchini ribbons…as many as you can.

Set zucchini aside.

Heat a medium size skillet to medium heat. When hot, add 1 teaspoon olive oil.

Add, green beans and corn, sauté until corn begins to turn golden.

Add tomatoes and sauté give them a little sprinkle of kosher salt and a few cracks of black pepper.

Cook, stirring frequently, for about 3-4 minutes. Just until they start to burst and look blistered.

Remove tomatoes and other veggies from pan and place in a small dish and set aside.

Add another 1 teaspoon olive oil to the empty pan and add garlic or shallots.

Stir constantly on medium-low heat for about 30-60 seconds. Add chicken broth.

Bring to a simmer and use a spatula to scrape any browned bits off the bottom of the pan. Simmer for 1-2 minutes and then reduce heat to low.

Place cream cheese in a microwave-safe bowl and soften for 20-30 seconds, until it can be easily stirred smooth.

Ladle in a couple spoonfuls of the chicken broth mixture into the cream cheese and stir to combine.

Once the mixture is smooth, add it to the pan with the remaining broth mixture and whisk until smooth and creamy.

Add chopped basil and lemon juice and stir to combine.

Add 1/4 cup of cream and taste sauce and season with salt and pepper to taste. (Feel free to squeeze in extra lemon juice at this point.)

When pasta is just about done, add zucchini ribbon strips to pot (so they're cooking with the pasta).

Boil for about 2 minutes, or until tender.

Drain zucchini and pasta and combine with sauce.

Toss in tomatoes, green beans and corn. Garnish with additional basil if desired.
Serves 4-6
Shop Kitchen Things