WELCOME TO CENTERPIECE WEDNESDAY – HALLOWEEN TIME!
Here is a fun Halloween Centerpiece idea for you.
I used this cute metal pie tin with a wire cagey thing attached together with an old antique door knob
Junk Revolution
(I don't think they are available any more) on top of a glass cake plate that has a black plastic doilie on it from Ikea
I filled the bottom of the metal pie tin with fall leaves and an orange candle.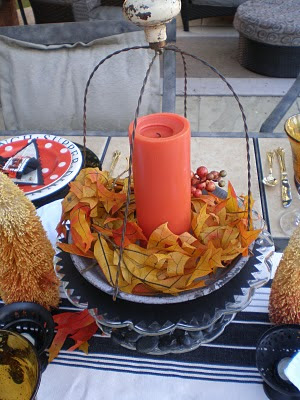 I stacked 2 glass cake plates on top of each other but this time I placed the small cake plate on the bottom and added smooth black rocks for texture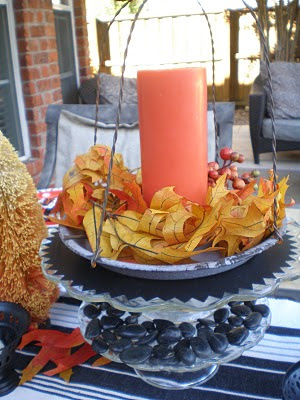 Then I "accessorized" the center of the table with a small black clock, black votive candle holders, sprigs of orange and gold berries and black wooden accent pieces.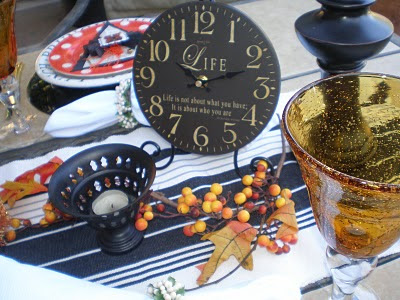 I also added some orange bottle brush trees to complete the Halloween look.
The black and white striped table runner is from Ikea.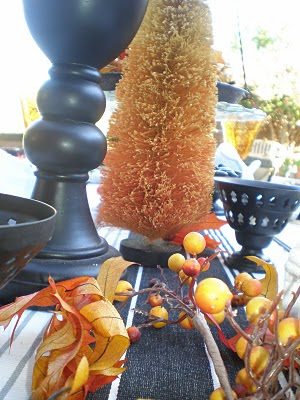 Tomorrow I will post the table settings! I used my favorite orange and white polka dots plates and upside down black charger plates!! It really turned out cute.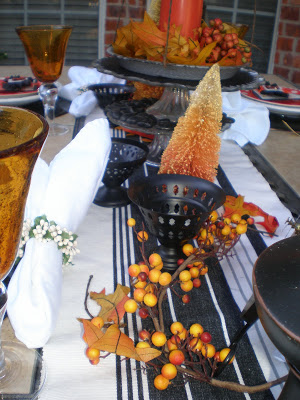 Can't wait to see all your Centerpiece Ideas!