Welcome to Centerpiece Wednesday!
I have re-opened the linky party today 12/26/12 to this post.
Please link up your centerpiece photos.
Remember to link up to the party and link back to us and show off your centerpiece ideas for everyone to see.
I started this centerpiece with a black and white striped runner from Ikea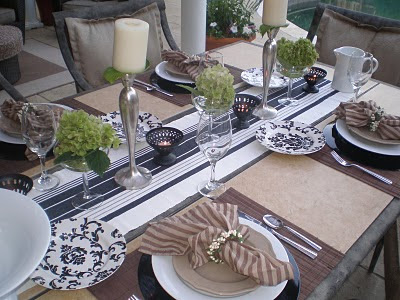 I added these large clear compote glass goblets filled with water and some green hydrangeas from the yard including a few leaves.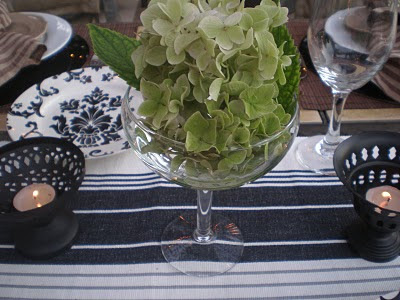 I love using fresh leaves from flower bushes in the yard. I did not have any skinny candle sticks so placed a fat candle on top of my silver candles sticks but underneath I added a few hydrangea leaves to bring more green color up.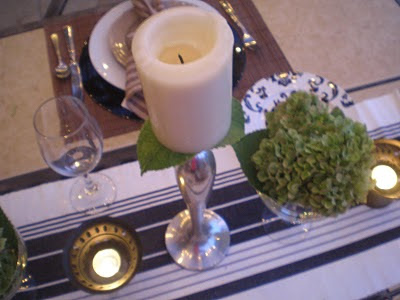 Here you can see the little black votive candle holders I got at the dollar store!!
I just created a little pattern all down the striped runner…… black votive candle holders, glass goblet with hydrangeas, silver candlesticks…all the way down.
I love how it turned out.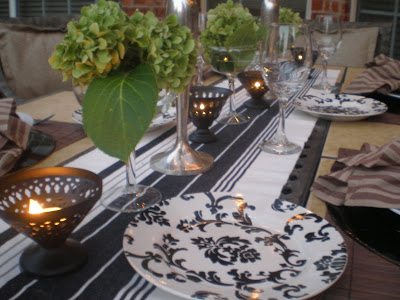 I gotta say these little $1.00 votive candle holders are fabulous!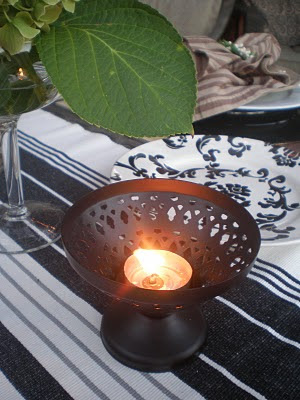 Here you can see I used my black and white "frenchy" looking salad plates mixed with the tan dessert plates (thrift store!!Brand new set of 4 for $5.00) and my regular white dinner plates from Ikea. The tan and brown striped napkins were from Crate and Barrel outlet 3 yrs ago and of course my WHITE NAPKIN RINGS!! $1.00 each!!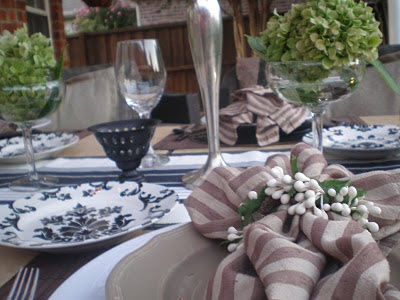 I didn't know if I would like the brown mixed with black but it really turned out nice.
The black chargers are my gold ones flipped upside down!!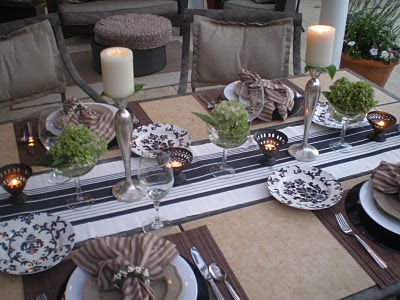 Now you start to see the glowing effect from the candles as the sun went down.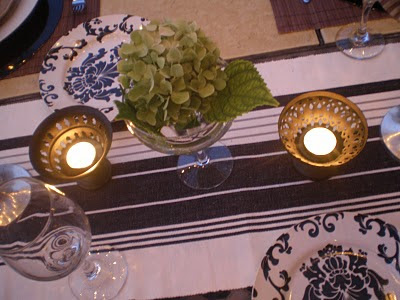 We also have hanging above…some white bulb lights to illuminate things even more.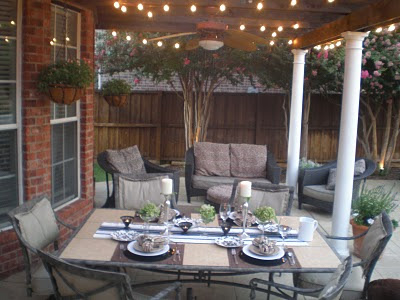 Dining alfresco in the backyard!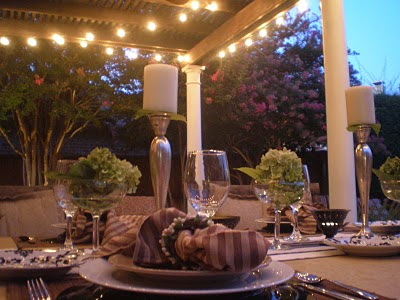 Who knew tan, white, black, brown and green could look so elegant?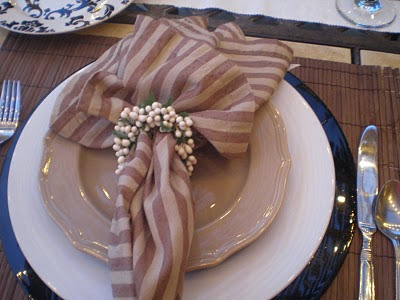 I just love how the centerpiece turned out…so simple and yet so elegant. I am thrilled to have used what I had around the house and in the yard to create a pretty table and Centerpiece!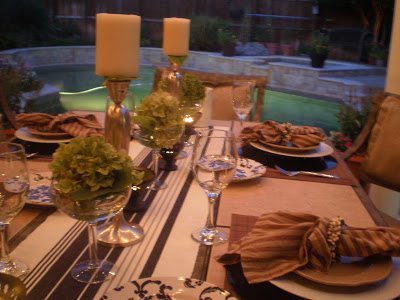 Next time I will show you how I changed out just a couple of things to make the table totally different but I kept the same centerpiece.
I am linking up to these parties