Since returning from our vacation to Southern California namely Laguna Beach, Dana Point, Newport Beach, Corona Del Mar and San Diego I have been craving the beach look more and more everyday! I miss the simplicity of beach living, the cute cottage homes on Balboa Island and in Laguna Beach. I miss the unique shops as well as all the restaurants. I don't particularly like the gigantic homes or the big malls ….I like unique original looking homes and shops.
I was looking at Coastal Living Magazine and grabbed a few pics to inspire myself to maybe start changing a few things around in my house. Hope you enjoy all the beach house eye candy…
I love the big wide stripes on the walls. The lovely light green plate holder with the fun dishes sitting atop a fun turquoise side board. It is just fabulous. It has that funky/old unique look.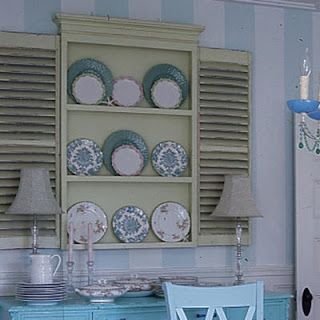 Such a simple idea to attach starfish or sea shells to outdoor lighting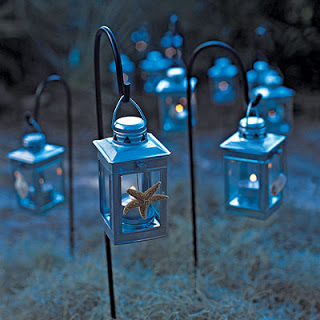 This kitchen is light and bright and has texture with the wainscoting on the back wall. I really like the butcher block counter tops….it is more natural homey looking.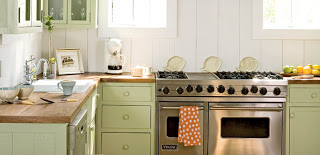 Country Beach Cottage…white, crisp with beautiful soft floral pillows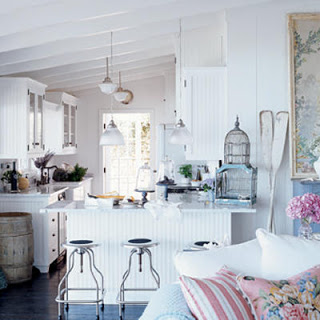 I love this idea an outdoor shower/pool changing area. The bright blue wall with the yummy yellow just screams
"Happy Day"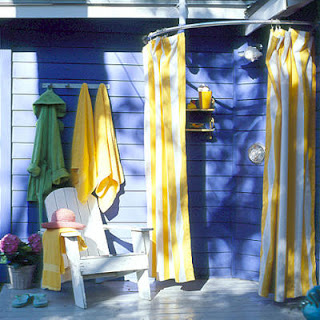 I love Ivy…even when it takes over the house..(I know this because I have Ivy in my front yard and it does take over in a big way) but it just makes me feel cozy and safe for some reason.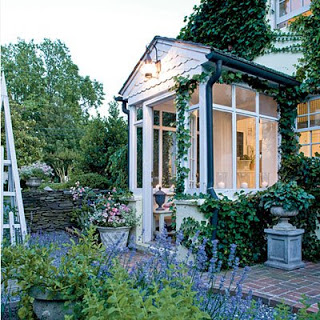 Fun Porch idea…Love the striped green window treatments.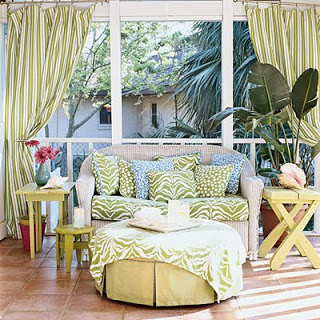 I am soooo loving this brightly colored door. That is one thing you see a lot of on Balboa Island and Laguna Beach..colorful front doors.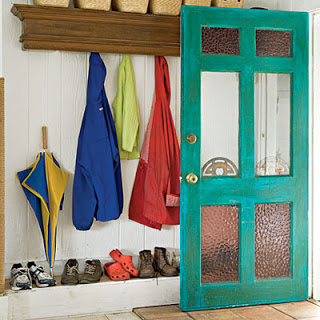 This room is beautiful with the softly colored painted walls and pink and white florals on the sofa and chair. It says relax and stay awhile.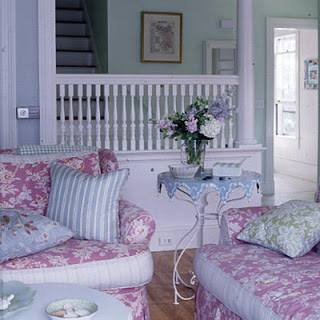 The bold blue and white striped pillows are so crisp and clean looking. Are you looking out that back door at the view!! I want that! Oh yes I do!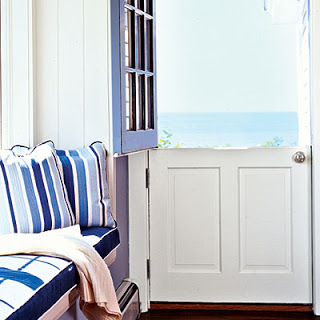 OK I don't know about you but HELLO…is this kitchen amazing or what? It kind of reminds me of Ina Garten's kitchen on her show.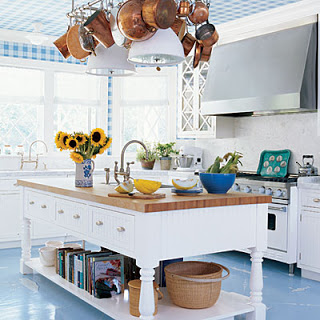 Gigantic windows to let all that beachy sun shine in…Are you lovin those striped slip covered chairs! They just look so comfy don't they? You can have everyone sitting on them all wet….. just coming in from the beach and who cares if they get all wet and sandy…just plop them in the wash and they look great again.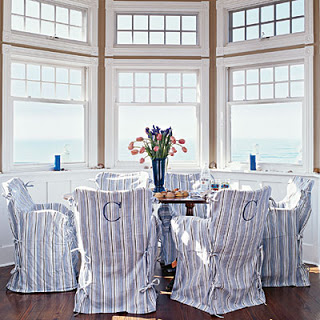 Just dreaming the California dream……but In reality I know how crazy California is ( I lived there for over 24 years), how crowded the beaches and the freeways are, how expensive it is to own even a small home there.
I think I will just decide to be happy here in Texas and create the beach look in my home, sit by my pool with my hubby and my dog, grill up some yummy food and enjoy each and every day and maybe just go back to California for a visit every now and then. 🙂