Start off with a simple placesetting: I used a cute beachy plastic dessert/salad plate (from Big Lots 4 for $4.99) stacked on top of a square white plate placed on an angle and then stacked on top of a large yellow plate used as a charger plate. It's o.k….. but it is just not popping for me so on to the next photo so you can see what I continue to add to make this really look great.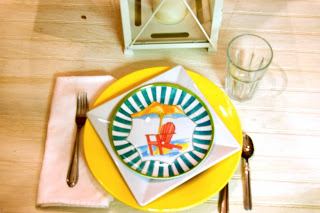 I have added a punch of color by using a plastic hot pink goblet with a little paper umbrella in it and we have taken the plain white napkin and put a silk flower around it for a napkin ring. I cut the flower off the long stem but left about 5 or 6 inches so I could bend it into a circle to wrap around the napkin.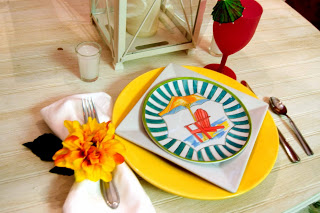 More color!! I found some amazing blue tissue paper laying around the house and I decided to make a table runner from it!! I also set the other placesetting across from it and used an orange colored plastic goblet for fun. Just by adding a few simple colorful accessories, the table top now pops and it looks like a celebration is just about to happen. Have fun, be creative, try new things to make your dinner table come alive.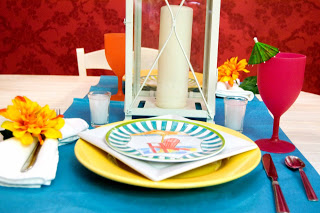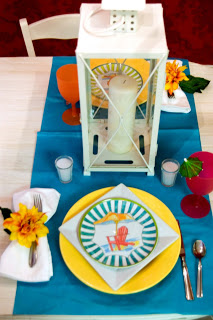 What do you do to add color to your table? See what others have done over at
Tablescape Tuesdays