Hey everyone! I've got something super cool to share with you today. Are you ready to create an awesome red, white, and blue table setup that'll leave your guests in awe? I've got a simple plan that'll make your table look stunning without all the fuss. Let's get started!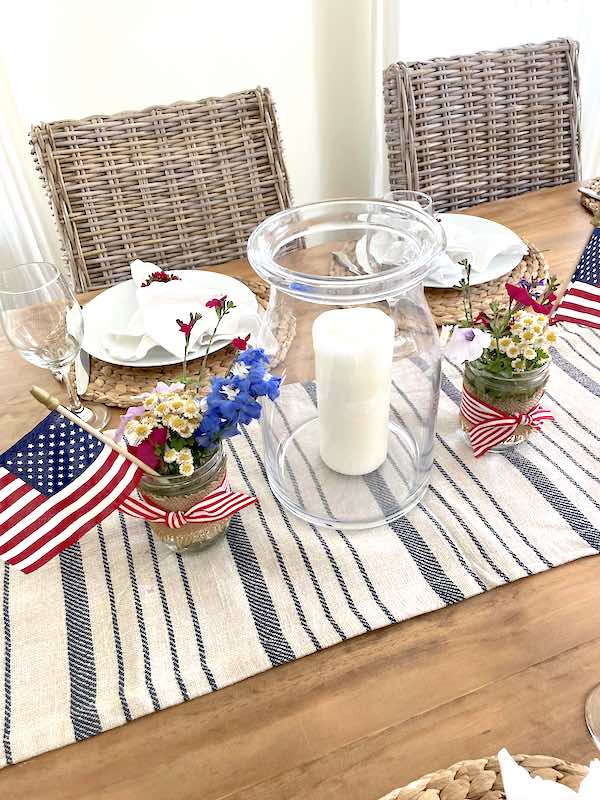 Start with a table runner to set the tone
Start with a Blue and White Striped Table Runner. First things first, grab a blue and white striped table runner. The stripes lend itself to that patriotic look right away. I am using a navy and cream striped table runner but you could use a red and white one.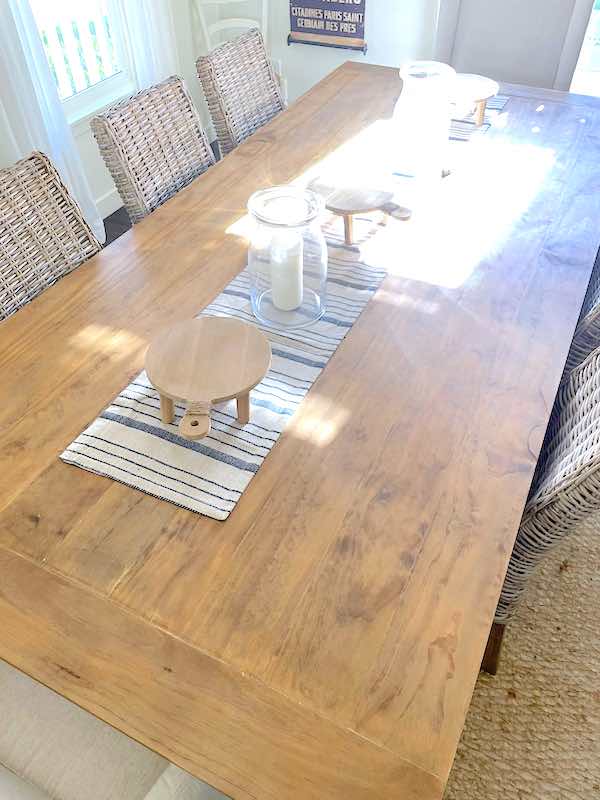 Just lay it down and let the magic begin!
Get Natural with Placemats
Keep things down-to-earth by using natural placemats. You can find ones made from jute or bamboo that give your table a rustic feel. I am telling you if you don't order some of these today you will be missing out because they are so great to use everyday!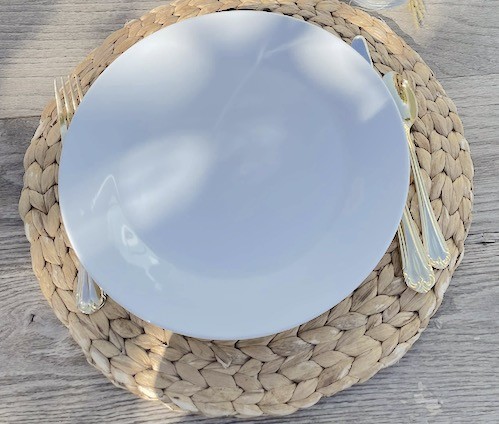 They're gonna be a perfect match for what's coming next!
Keep it Classic with White Dinner Plates
For the main dishes, stick with classic white dinner plates. They're simple, elegant, and let your food take center stage. My favorite way to serve food is on on white dinner plates. Then I can add a pop of color or pattern with a salad plate like I did for this Coastal Grandmother tablescape.
Having white dinner plates is like a blank canvas for your culinary creations. Yum!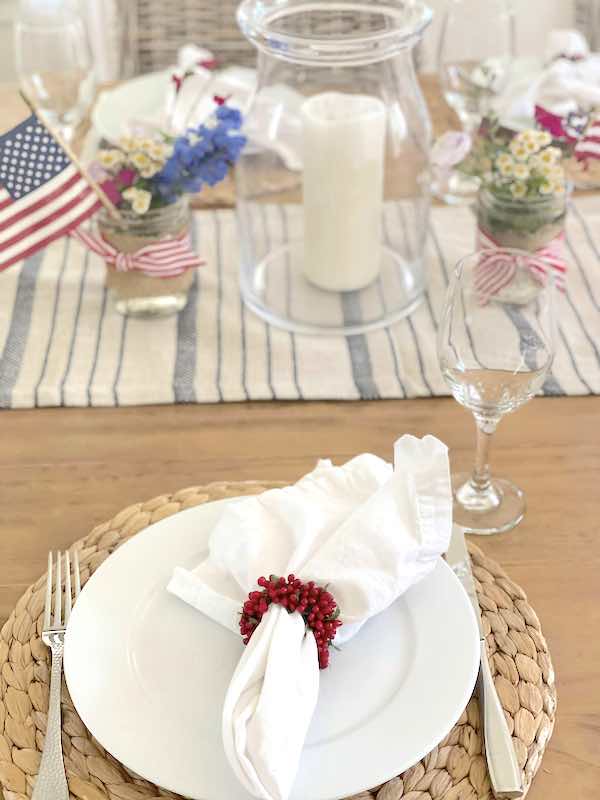 Use Clear Glass Goblets for a Classy Touch
Next up, let's bring some class to the table with clear glass goblets. They'll make even water look extra fancy. I like serving water with a slice of lemon or raspberries because you can see the vibrant colors shining through.
It is those little details that make the tablescape simple and stunning.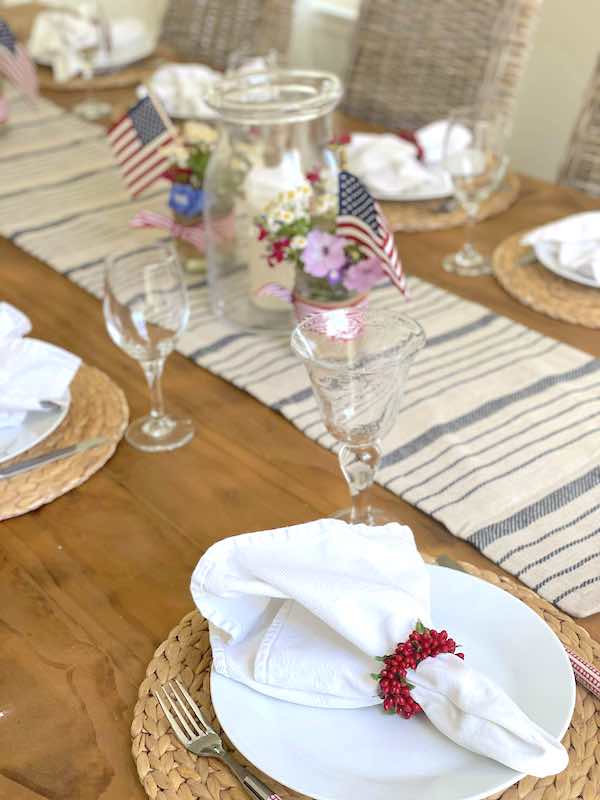 DIY Mason Jar Centerpieces with Rustic Flair
Now it's time to add some charm to your table with DIY mason jar centerpieces. Use regular sized mouth mason jars and wrap them with strips of burlap. Just attach them with a little hot glue.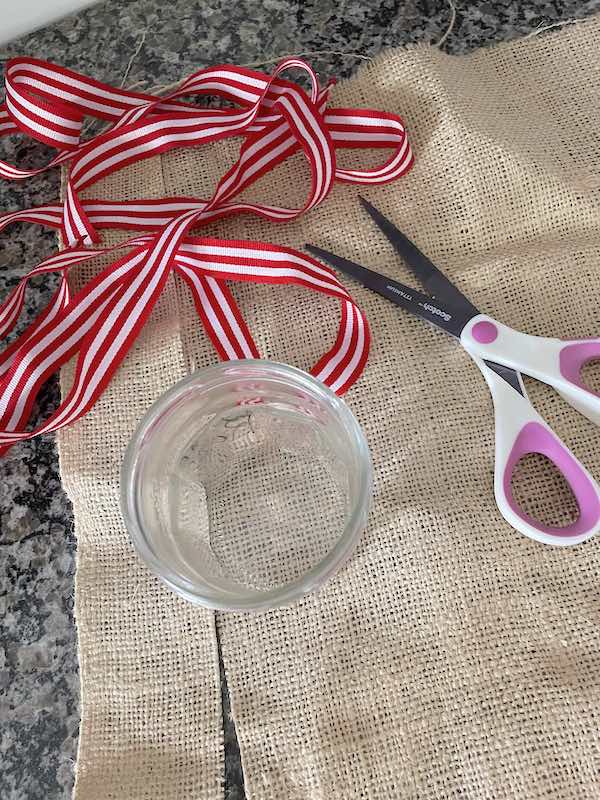 Then add red and white striped ribbon and tie them in a knot. Fill them up with all kinds of flowers you picked from your backyard. It's a touch of nature that'll make your table feel special for your guests. Plus your centerpiece is basically free!
I used these mason jars here for the 4th of July and filled them with white roses and blue flowers for a quick centerpiece. Super inexpensive and easy to make!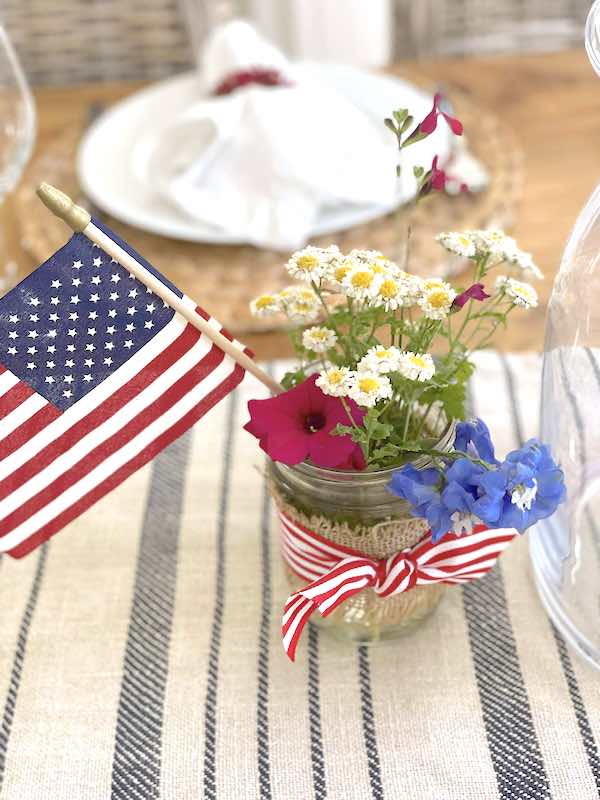 Don't Forget the Finishing Touches
To bring everything together, add a few finishing touches. Stick some little flags on toothpicks for appetizers, or tie red, white and blue ribbons around the napkins. I love to use my red pip berry napkin rings.
You may remember this tablescape where I used all three red white and blue pip berry napkin rings on each napkin. It's those little details that make a big impact!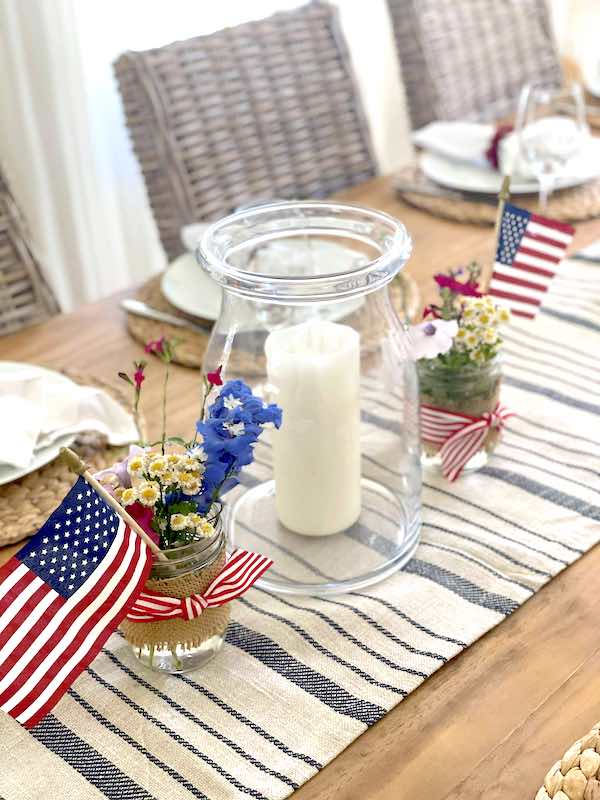 There you have it, folks! With these simple steps, you'll have a red, white, and blue table setup that's gonna blow everyone away. Just follow my lead: grab that striped table runner, set out the glass goblets, lay down the natural placemats, place those white dinner plates, and create those amazing mason jar centerpieces.
It's gonna be fantastic, I promise!
Enjoy your celebration and have a blast!
Shop Similar Table Items